Meet Jeff's new love: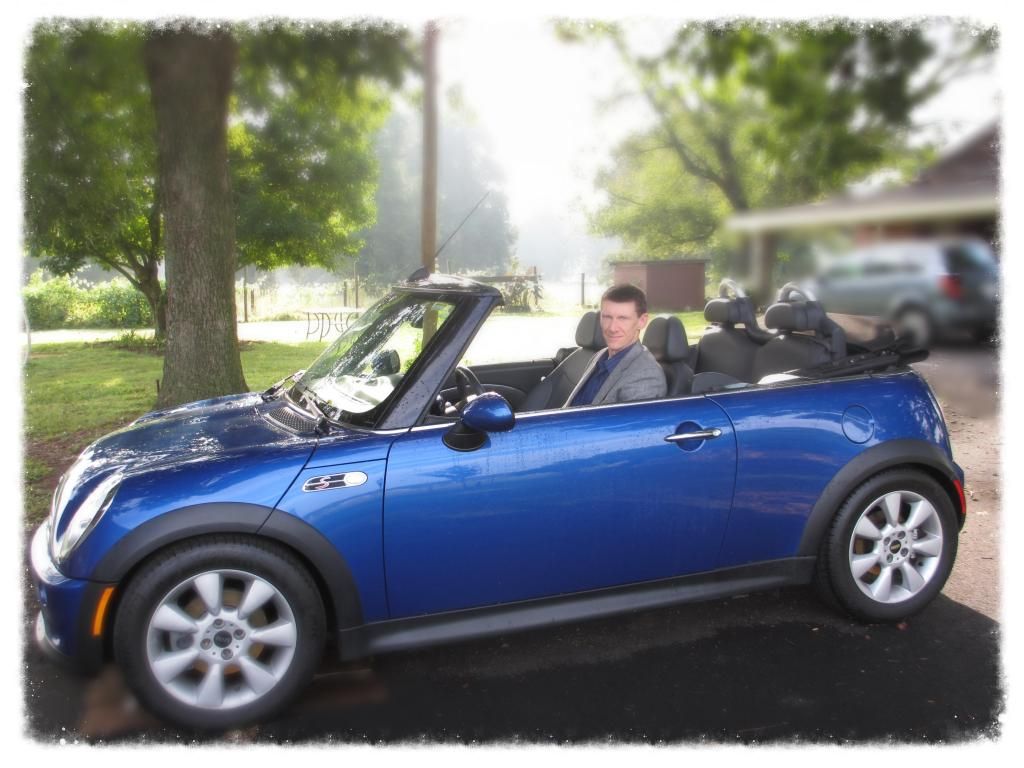 This is Cooper, the desire of Jeff's heart. You have to understand that Jeff really loves driving. I only see it as a means to an end, but driving is relaxing and enjoyable for Jeff. He has never been one to lust after any material possession, but given his pleasure in driving, it's understandable that Jeff really likes convertibles.
So when his old commuter car started having major mechanical problems last year, we talked about replacing it with a convertible. It was a luxury, not a necessity, but since he took his old, bare bones 2000 Dodge Neon from cradle to grave (bought it new and put all 230,000+ miles on it), we felt it wasn't unreasonable.
We spent quite a lot of time this summer researching and test driving used convertibles, trying to find one that was reliable, gas efficient, and at the right price point. The Miata was too small, the Sebring too big, the BMW too expensive, the Honda hard to find, the Bug too "girly", the Mustang too much a gas-guzzler. We drove hours each way to little used auto dealers to look and talk and haggle and ultimately walk away for one reason or another.
College started back, and Jeff had basically given up and decided to limp the old car through when he checked the local used auto websites again and saw this Mini Cooper! It was our "Goldilocks" moment. It's adorable, but still sporty and retro enough to be manly; has good gas mileage, but the 6 speed transmission and supercharger make it fun to drive; roomy enough for the nieces or other small guests to ride in the back seat on occasion; relatively spacious with the fold-down backseats and exterior luggage compartment; and packed with upgrades like electric seat warmers that will make those chilly days that much more comfortable when Jeff still wants the top down ;-).
Plus it's blue, which really brings out Jeff's eyes (okay, that last part factored not a bit, but it's still a bonus)!