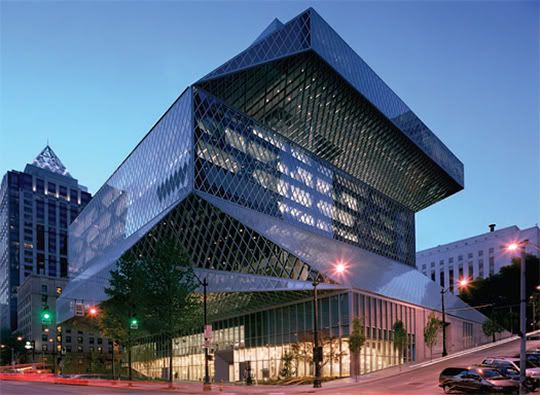 Make thy books thy companions. Let thy cases and shelves be thy pleasure grounds and gardens.
- Judah ibn-Tibbon (12th century)
I know Seattle is probably most famous for the Pike Place Market, but one of my favorite places was the Central Library. It is a quite new structure (compared to the historic building I usually love), but the aesthetic and functional design is incredible. For example, the non-fiction collection winds up through the four top floors of the ten story building on a continuous series of shelves called the Book Spirals; this way, you can walk uninterrupted through the Dewey Decimal system without ever needing stairs and elevators. The floors slope gently up and around and the bookshelves sit on slight concrete wedges to level them. There is an escalator up the center as an "express" method of finding a particular section, as well as the standard staircase and elevator to get you to any given floor.

Another favorite feature was the book return and sorting mechanism. I watched a four minute video describing the method, which is simply genius. It takes individual books straight up and over the heads of patrons in a series of ducts to a sorting room, rotates them all so the binding is aligned and covers face the same direction, reads a radio signal to determine what section is required, feeds them off appropriately, stands them up, and shoots them on to shelving carts to be reshelved. With a collection of over 1 million pieces, you can see why this automated system would be needed!

But the best part was the children's section. I spent so many happy hours at public libraries as a kid (it was a regular occasion once or twice a week to make the trek, either walking to a small local branch or driving to a larger one). This place was so warm and whimsical, any child would want to find a good book and read. And for those who only go to the library to play (yes, I mean you, Dear ;-), there was a well-stocked area for that, too.