I'm now the almost, kind-of, part-time owner of a horse! Okay, it's just a half-lease, but it's a phenomenal deal and a great opportunity (hopefully for both him and me).
I've been riding hunter/jumper and dressage on and off since my teen years, as my budget and schedule would allow. I couldn't find a stable here in Alabama when we first moved, but through some connections I finally located a great instructor last year. She's actually one of the best with whom I've ever trained, so it's a real blessing. Just last week she offered me a half-lease on a lovely Arabian gelding at a great price. He needs a bit of work to really refine him, hence the good deal. I'm flattered that I'm to the point where she thinks it will be an asset to have me work him!
Here are a few photos of Flame. He's just over 15 hands, 9 years old, chestnut in color, and a real sweetie. And he's all mine in the mornings any day I want! The stable is only 15 minutes away, so I'll be riding three or four times a week. Hurray!
(And thank you darling husband for supporting and encouraging my habit!)
Here's Flame grazing:
Checking out the camera: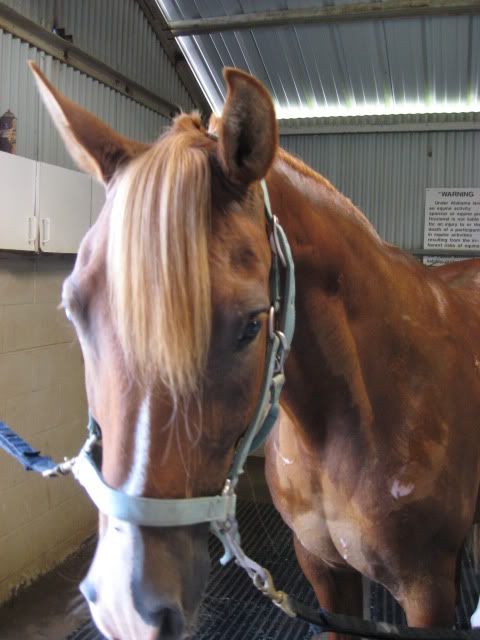 After our workout and hose-down, waiting for his sugar cubes: