It's time to get the ball rolling on the downstairs bathroom renovation! After scrubbing it down, disinfecting everything, and giving walls, ceilings, and floor (yes, even the linoleum) a coat of paint back when we moved in, nothing much has happened for the little full bath. The fiberglass tub is badly stained, the galvanized plumbing runs rusty water at times, the toilet occasionally misfires, the ancient wall-mounted sink is tiny and low, and the torn linoleum is curling and peeling. (Is it any wonder we added on the
new bathroom upstairs
?!) But this little first floor bath has a good layout, great storage, a cute little window, and convenient access as the downstairs bedroom en suite, as well as serving the kitchen and mudroom.
Here's the plan so far: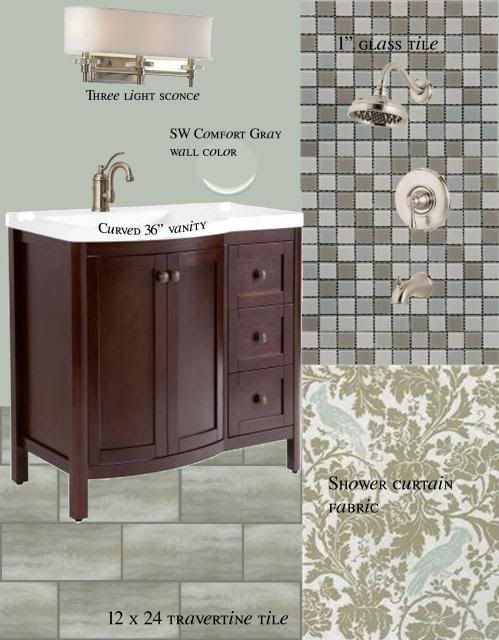 This will be my first tile laying experience. I've grouted before, and patched a tile here and there, but I plan to take this from start to finish. To that end, I chose a small mesh-mounted glass mosaic for the shower surround. I originally wanted marble, but have you hefted a 12 inch marble tile lately? It's really, really heavy! And it's apparently hard to cut. I had visions of hard, fragile marble tile dropping off the messy mastic walls onto my foot; or worse, damaging the new tub! We already have subway tile upstairs, and I wanted something a little different for this bath, so glass mosaic it is.
The tile, lighting, faucets, and vanity are already purchased. The tub, toilet, and flooring are picked out. All I have to do is get the plumber in to run new water lines. Oh, and of course, wait for our upcoming guests to arrive and depart before I begin tearing the bathroom to pieces!