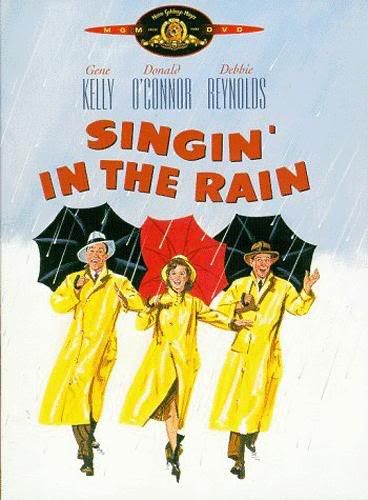 Jeff took me to the city's free "movie in the park" Saturday night to see Singin' in the Rain on the big (inflatable) screen. It was so much fun! We brought our popcorn and drinks, chairs, and a blanket and enjoyed a cool evening breeze under the stars with Gene Kelly and Debbie Reynolds. Jeff even had fun, too! (Since we've been taking ballroom lessons, he's been more tolerant of dancing scenes in general; and what man can't admire the athleticism and stamina of Gene Kelly ;-)

Jeff had watched a number of my favorite musicals with me in the first few years of our marriage, but he had never seen this one. I'm often quoting my favorite lines and songs ("And I can't stand him", said more like "an' Ih caaan't stan' 'em", and of course the "Good Morning" song), so he finally got to see the context.

Interesting notes: Debbie Reynolds was only 19 years old when she starred in this, her first, movie. Gene Kelly was paid $2500 per week, and she received just $300! She ended up on bed-rest for three days after weeks of training under Gene Kelly himself to prepare for the role. And, to add insult to real physical injury, some of her vocals and tap-dance tapping still were dubbed in by others. But there is no doubt from her later works that she really could dance and sing!