So I promised more details on the reason for selling and our new opportunity. It all started with some friends of ours from ballroom dancing (the same couple I've mentioned before who owns the berry farm in the next town over). We got to know them well and would invite them over for dinner on occasion. One such meal a few months ago put the whole thing in motion.
Our friends mentioned that they had been swamped lately because his aunt had died and he had inherited a bunch of land and an old farmhouse in his town. I know the town well (only 2500 people) because my riding stable is there, and there are barely any older houses in the area (believe me, I notice these things ;-). I immediately asked what house, and to my amazement, our friends described the one house I regularly looked longingly at on
my way to the stables! By the time dinner was over, the wheels in my head were turning and I had the whole renovation planned out (without ever having seen the inside, mind you).
It's a very good thing I married my sensible, conservative, stable Jeff. While I was dreaming, he was calculating. By the time we got in to see the house a few weeks later, it almost wouldn't have mattered what the insides looked like to me. The chance to live in this friendly small town, half a mile from my riding stable, thirty seconds to the highway to cut Jeff's work commute by 40%, in a neat old house with some land was all it took. So the waterstained wallpaper, cracked walls, damaged floors, leaky windows, piles of possessions and trash, oddly configured kitchen and bath, and random boats and cars in the yard went right over my head. I saw heart pine floors, original woodwork, weighted sash windows, lath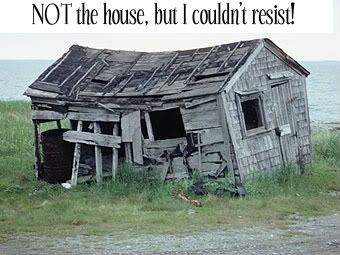 and plaster, high ceilings, and lots of potential. I must not be the only crazy one because Jeff was soon on board as well (although I think he likes the huge shop building and view of thirty plus acres, ponds, and trees more than the house).
I haven't blogging as much lately because we've been busy the last two months taking measurements, getting estimates, and putting together a plan. The inspection was last Friday, and although the list of problems is as long as my arm, it's all manageable. We are "under contract" (contingent on the sale of our current house) to purchase the 2200 sq ft 1925 brick bungalow farmhouse with 30 x 40 metal shop on one acre with a 15 year mortgage. We will likely have the option to buy more acreage later, but it's all we wanted to pay at the moment (and we'll have our hands full anyway).
Stay tuned for the next installment, with pictures!