Look what we found carved on the basement wall!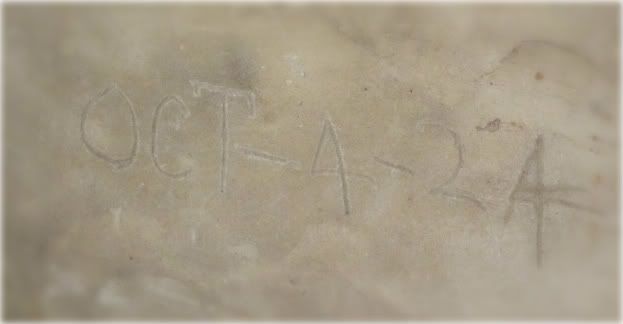 It would have never been found had we not needed to knock down some old built-in shelves in order to hang the air handler/furnace.
We've known the tax records show that the bungalow was built in 1925, but this was so fun to discover! We now have a tiny discrepancy on the date, but I would say that if the basement was poured in Oct '24, there's a very good chance the house wasn't completed until 1925, which is probably the only thing the tax records would care about.
We've know this family had a penchant for scrawling a date on things. I thought it was primarily the unmarried elderly aunt (whose handwriting can be found with the day, calendar month and year, and endless details printed neatly on window blinds, storm screens, ceiling fans and light fixtures, hat boxes, etc.). But this shows she inherited an affinity for the task. We may just have to follow suit and write a date on the studs or subfloor or something upstairs when we start the master bedroom/bathroom addition.