Well, live and learn. We had gotten estimates a month or two ago on repaving our long drive and parking pad with asphalt. It just needed an inch or two of capping, so I had hoped it wouldn't be too expensive. But being a petroleum product, it was quite pricey! We decided it was out of our budget and not a priority, so we moved on.
Tuesday dawned a lovely, sunny morning after a day of hard rains and storms. Jeff stayed home to do some cleaning and organizing, so it was nice to have him around. I made us a pleasant lunch and, just as we were wrapping up, there was a knock at the door. It was a nice guy, the owner of an asphalt company who had two truck loads he couldn't use because the storms had washed out the gravel base on which he was suppose to pour that afternoon. He was offering us a good deal and seemed to have a very reputable company with good prep work, etc. The price was great, especially since I had gotten several estimates just recently. A private conference, a quick prayer, and an agreement was made.
But if a deal seems to good to be true, it probably is! It could have gone worse, and we're satisfied with the end results, but the process was a bumpy road. After sawing up parts of the old asphalt at the top and bottom of the drive and pouring one truck load, the owner came to us and said he had miscalculated. It was going to take many more cubic yards than he had thought. The price per yard was the same, but now the job was going to cost around $1500 more! That put it over the previous estimates that we had decided were too expensive. Our good deal now looked like a grand mistake! The owner felt he had quoted us a price per yard, and we felt he had given us price for the job, so chalk it up to miscommunication. We were understandably upset and frustrated, but Jeff worked through it with the guy. In the end, they agreed to a compromise price that was more than we had first thought but still a decent amount under other estimates. And they did lay a thicker cap and do more prep work than the other quotes I had gotten, so we probably got a better job overall for less money.
The task really did need to be done, but it's hard to swallow such a big price tag for maintaining what is basically a utilitarian (and not extremely attractive) surface. But it has already made our life easier, as the old muddy gravel parking pad is now asphalt all the way to the shop, a curved walking path leads to the side door, there is a buried conduit under the drive for the inground dog fence, the driveway is wider, and the flowerbed brick border can now be installed level and straight. I just have to quit thinking about all the other fun, beautiful, big things that same money could have purchased and be glad this big ticket item is over and done with!
It was a large professional crew with lots of equipment, power tools, their own flagger for the road, and everything!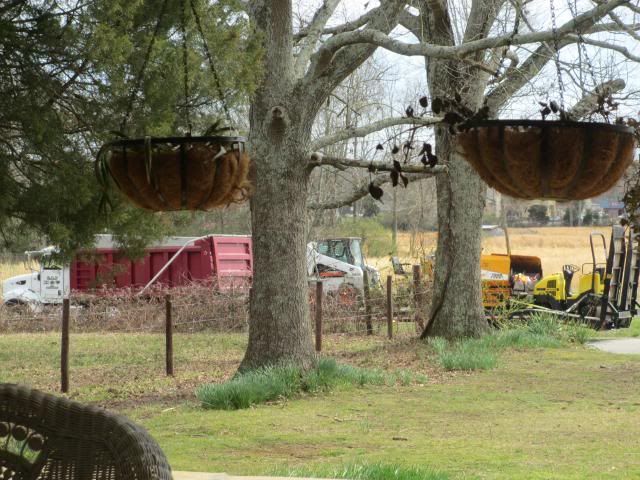 Street view before:
Street view after: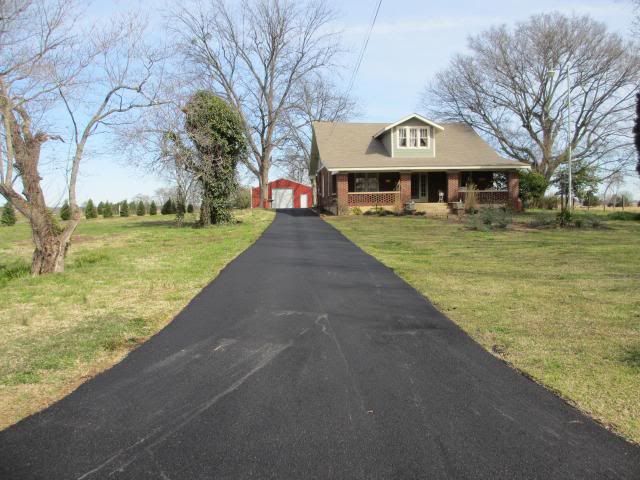 In front of the shop before:
In front of the shop now: