I've had several questions about the bathroom, so I thought I should cover some of the nitty-gritty and then move on, away from potty-talk finally.
We did contract out the bulk of the work, since it needed to be done to code and pass a building inspection; but we designed the addition and layout, sourced and selected all the materials, supervised (and intervened) on a daily basis, laid the floor, and painted and wallpapered.
Here are some "mug shots":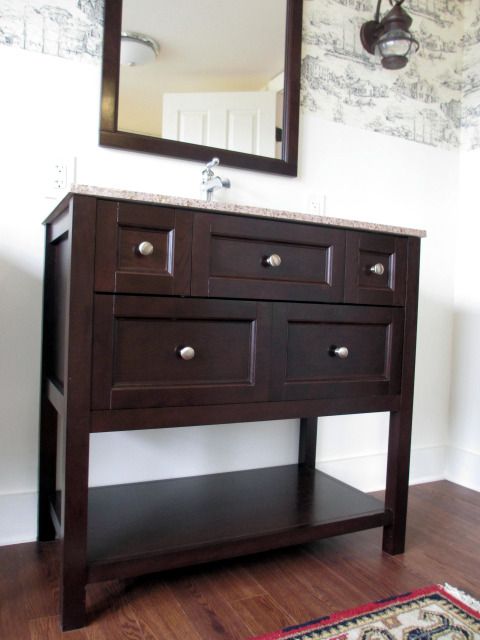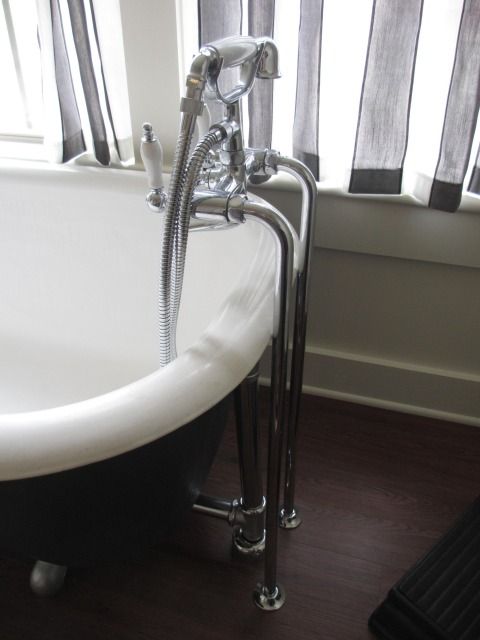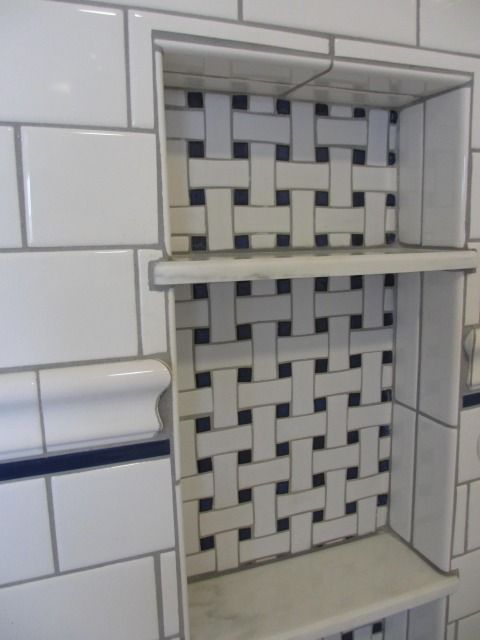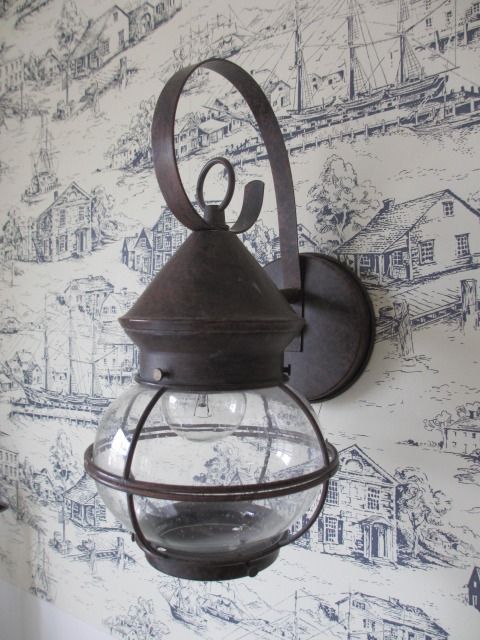 Here are the materials we used:
Vanities: St. Paul 36" espresso (special buy at Home Depot)
Tile: Merola cobalt and white basketweave for shower floor and niche; Lowes stock subway tile for field; Lowes clearance white chair rail and pencil liner for accents; Mapei Silver grout; Home Depot marble thresholds for niche shelving and shower curb
Faucets: Delta Victorian chrome shower and vanity faucets; Price Pfister Savannah floor mount tub faucet and risers
Tub: antique 1920's Kohler from local flea market, painted Ben Moore Hale Navy
Toilet: Danze Orrington
Lighting: clearance exterior lanterns from Lowes
Flooring: Novalis vinyl planks in Gunstock
My one regret not having more closed storage, but it wasn't an oversight. To preserve the symmetry of the house, we matched the gable addition to the existing front gable. That gave us a rather square room with lots of floor space in the middle and large triple windows. We couldn't bump a closet into the knee wall space on either side of the gable, and I couldn't figure out how to build one in and keep an attractive and functional arrangement of fixtures. The new toilet ended up 15" from the wall because of a floor joist, so I had that section of the wall furred out and a built-in niche framed. I plan to have doors made eventually, so that will hide the less attractive bathroom necessities. And the less places to hide the mess, the more tidy and organized we will have to be, which isn't a bad thing!