Not cold feet, as in backing out of something, but wet feet, as in changing horses mid stream!
After spending hours planning around the one inch mosaic tile I selected for the shower surround (and I mean hours!), we have scrapped that plan. Not because it wouldn't work eventually, but because inspiration struck while in the Lowes tile aisle!
To give you an idea of the magnitude of this change, I had better back up. To minimize tile cuts, we had measured and plotted every inch of the shower layout to perfection with the
original tile
I purchased in mind. We designed and built the shampoo niche to within an eighth of an inch specification so the tile patterns would fall just right. And then I had to go and fall in love with a different tile just one day before install!
I've mentioned
some of the issues
we had with the first tile. But we were moving forward pretty well and had everything on hand to start the job. I only ran to Lowes to pick up the flooring before the holidays. I will be forever grateful that the staff was stocking the tile department and had boxes and pallets all over the aisles. I grabbed what I needed, but had to detour down another aisle just to get out. And that's when I saw it! Lovely mosaic tile on clearance. Only $2.99 a square foot, in a 1x2 mini brick pattern, with mixed glass and travertine, picking up my bathroom colors AND the flooring tile I had just grabbed.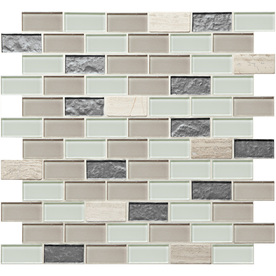 I stopped. I stared. I wavered, desperately sure that changing tile now would mess everything up. Why, we had just spent hours building the shower around a different size tile and mosaic sheet dimension! We couldn't change now, could we? Even though the new tile was cheaper? And prettier? And matched the flooring perfectly? What would Jeff say?!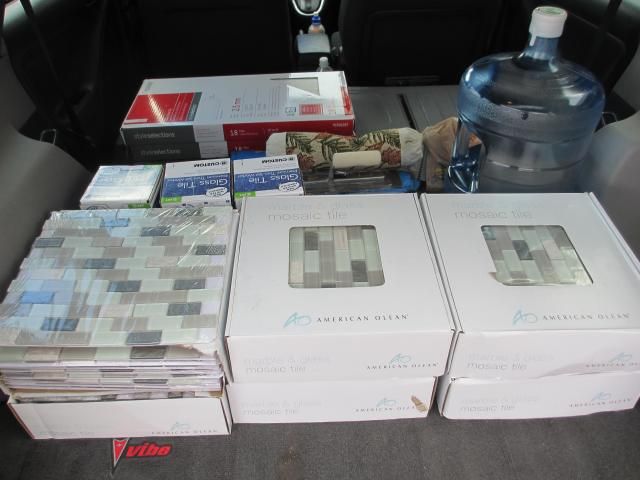 I won't say it was a sign, but the store had exactly the right number of boxes I needed; no more, no less. And all in the same dye lot! I knew I could always bring the tile back, so I loaded those puppies up. All the way home, I wondered what Jeff would think. But I needn't have worried. When I got home and explained why I had 80 square feet of shower tile in the car when I went out for 50 square feet of flooring, he calmly listened to all the pros and cons, helped me carry in some samples of each tile to compare, and weighed in with his decision that...
He, too, liked the new option better!
So, the layout might not be perfect. There will be more cutting and fewer factory finished edges, since we didn't build with this tile in mind. But I will look at that shower and always know that sometimes, just sometimes, spontaneity and impulsiveness work together for an inspired design!
Our practice piece, after experimenting how to cut all those staggered edges!