I've finally taken photos of the guest bathroom vanity project that I completed while Jeff was out of town at his conference. I had been waiting for a good opportunity to work on this since we are currently living in the guest room and using this bath while we complete the master suite. With Jeff gone, it was a perfect time to clear the counter and work for several days.
With the new decor in the guest bath, everything was coming together with the updated avocado theme except the vanity countertop. It was a white faux marble laminate material that looked out of place with all the warm tones I had brought into the room. (This previous post shows the newly painted vanity but old laminate top.) Since we're keeping the sinks, I didn't want to tear out the old counter and make more work for Jeff just because the color was wrong. So, I painted it!
I used an abrasive cleaner, wiped it down well, and primed with a good bonding primer. I used a base coat one shade darker than the walls (walls: SW (Sherwin Williams) Ecru, counter: SW Harmonic Tan). Then I used a sea sponge and acrylic craft paints to faux finish the counter with a granite look. Three coats of water-based polyurethane and it's sealed and durable. We been using it regularly for almost two weeks now and it's holding up great.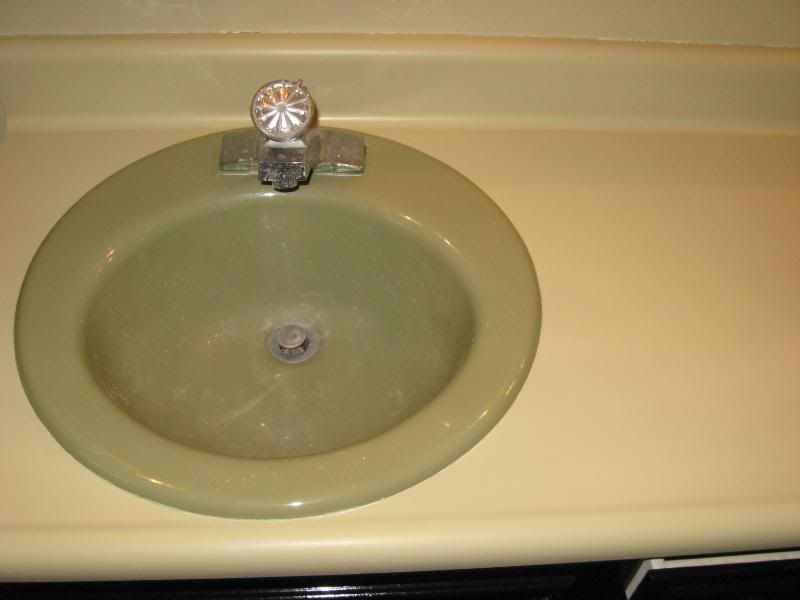 During (primer and base coat)