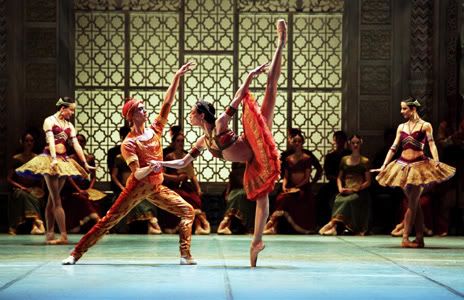 Last night Jeff took me to one of the most beautiful ballets I've ever seen. For only 17 Euros a seat, we got great, unobstructed views from the balcony, melodious notes from the full live orchestra in the pit, classic choreography, stunning sets, and lush costuming!
I was unfamiliar with the ballet Die Bajadere (or La Bayadére, the original French title), the story of a love triangle set in majestic India. It premiered in 1877 and I'm so glad it is being produced today. It is considered the precursor in style to the far more famous
Swan Lake
and
Les Sylphides
.
The dancing was superb and the audience very receptive and appreciative of it. Jeff found the principal ballerinas and the corps de ballet very elegant and beautiful. For me, I would quote Gretel's firm statement in
The Sound of Music
(while watching the ladies and gentleman dancing at the ball), "I think the MEN look beautiful". There is something so awe-inspiring about the unexpected combination of grace and power and flexibility in a classically trained male dancer. There was spontaneous applause and "Bravo"s from the spectators several times during the various male solos.
All in all, it was an incredible three hours and an absolute bargain. If you ever make it to Berlin, the Staatsballet is a must see! I forgot to get the camera out when I checked my bag in the cloakroom, but here are a few photos from the website.