The food here in Berlin has been quite good. Groceries are extremely reasonable, many items such as fresh produce being more readily available and less expensive than in the States (and beer is literally cheaper than water most places)!
Meals at home; Chicken and capers in lemon-butter sauce on the left,
Florentine pasta with roasted cherry tomatoes on the right
We have eaten out a few times but try to keep it to a minimum. This gives me the full experience of really living in Berlin, needing to shop and cook at home. But we have enjoyed some home-cooked traditional German food made by friends as well as ethnic restaurant fare such as Italian and Turkish.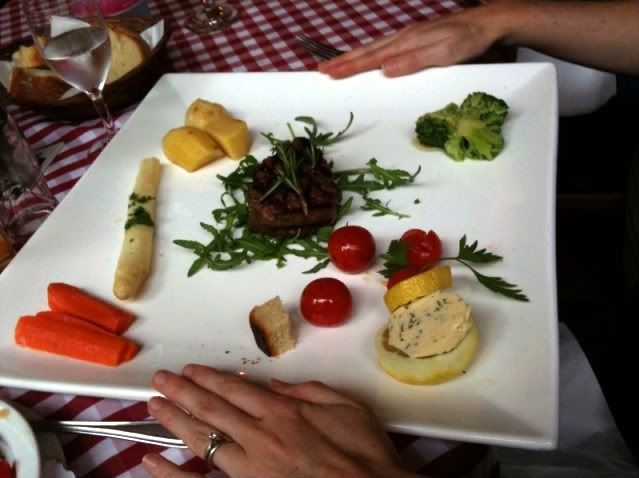 My very large plate, from our meal out with colleagues a few evenings ago
All in all, we are eating very well. There is only one small spot of tarnish on an otherwise glowing report. If only we could get large, cold glasses of water to accompany our meals, all would be right in our gastronomical world! As any of you who have traveled to England or Europe likely know, our friends across the pond are not fond of ice cubes, nor do they seem to think drinking from the tap is very couth. So one must constantly order small (and I do mean small!) bottles of mineral water to accompany the meal and whatever other beverage is being enjoyed. We have been able to get child-sized glasses of lukewarm water at a few restaurants, but several waiters have told us they are unable to serve tap water by order of the owner!