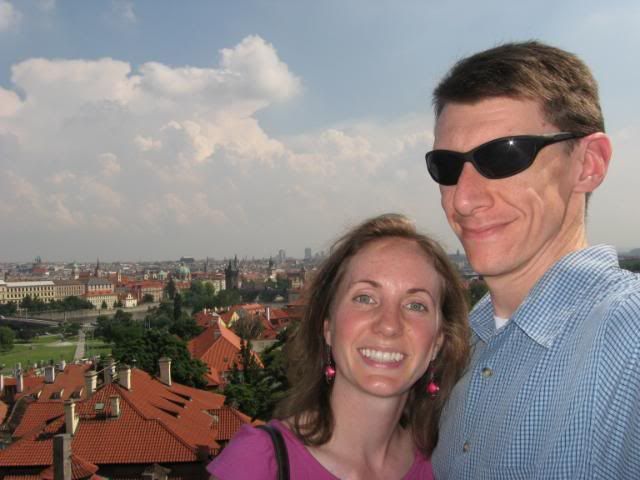 Overlooking the vineyards and Prague from Castle Hill
We had a wonderful experience in Prague. Because it was not bombed during WWII, it is one of the most well-preserved cities in Europe. We saw too many places and beautiful buildings to name! There are examples of all the architectural styles right through history. Almost every office building, business, and store is housed in a fantastic, ancient structure with ornate moldings, exterior fresco paintings, high ceilings, and beautiful colors. After a few days, we almost got used to it and stopped saying "Look at this building. And look at that building! And the one over there, too!"
In addition to architectural "eye candy", we also had amazing food. My first meal in Prague was a lemon pepper salmon over roasted mixed vegetables. It was almost unbeatable in taste! Everything else, the Argentinian beefsteak, the duck over oranges, the butterfish with capers, the pasta platters, it all had to compete with the memory of that salmon. We ate lightly at other meals to try to balance the crème brulees, chocolate tortes, and cheesecakes we consumed for dessert.
Out to dinner with some very bright people!
We enjoyed the company of several of Jeff's colleagues from the conference as well. As a whole, they were a very well-educated, international group of engineers. I was able to finally put faces with names of long-time associates of my husband. We also met and made friends with many new individuals, such as a Brazilian PhD student studying in Germany, a professor from South Korea, a Frenchman teaching in Atlanta, an Australian government scientist from Melbourne, and a large contingent of Swedish scholars and students. Jeff is very good at networking and setting up collaborations, so I view any of these locations as potential travel destinations for the future!