Well, the faux fireplace mantle project is going to take two people to cut down because I don't have a table saw (hint, hint, dear husband of mine ;-). So, I'll have to wait until Jeff is back so I can have an assistant with the circular saw. In light of that, I moved on to some simpler cutting projects, making picture mats for some paintings I found.
I bought several oil paintings at a thrift store a few months ago. They were on unstretched canvas, and my original plan was to make stretcher bars and hang them as is with a gallery wrap style. But then I found a bunch of large picture frames at a thrift store and the wheels started turning. The frames were larger than the canvases, but with mats I could pull it off. It isn't standard to mat oils, but I love the look and for a couple of dollars a piece, it was cheaper and easier than stretching the canvases.
Since none of the art is standard size, I had to make custom mats. My new favorite tool is the Dexter Mat Cutter. It makes a gorgeous bevel with very little effort. I bought a vintage version on eBay for just a few bucks, and it even came with five unused blades!
So here's some of the newly matted, framed, and hung paintings. I still have about six left to do, but the depth and intricacy of the works adds a lot of warmth to every room!
Our favorite pair hung in the family room; I feel as though I could just step into the painting and explore the terrain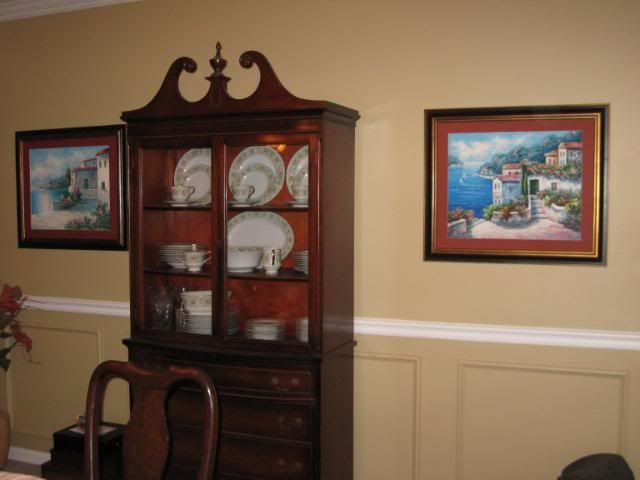 Our dining room is not Tuscan in theme, nor does it have any blue, but I tied in the mat color to the drapes and the formal living room wall color
A close-up of my corners; I love the Dexter!