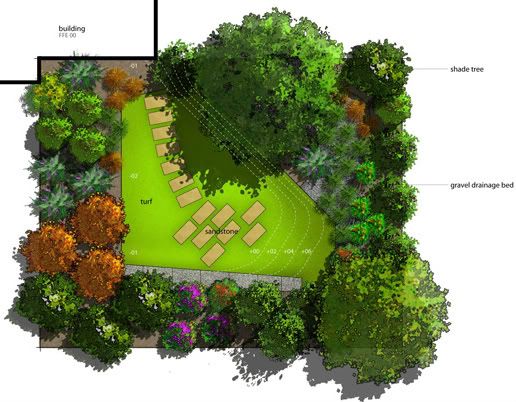 We had a fantastic lecture on landscape design in the Master Gardener class by the state specialist. It was such a good fusion for me of my growing love of horticulture and my existing passion for interior design. This is just
exterior
design! She pulled in several concepts I'm already familiar with such as flow, simplicity, rule of three, etc. They were presented in a new context that sort of clicked for me.
She very organized, and I'm glad she emphasized having a plan. We discussed how to map the property and come up with several templates that designate conditions, positive and negative features, needs and desires, etc. Most gardeners start with a plant and then try to decide where to stick it; her method was the complete reverse. It's such a logical process when done that way. I'm looking forward to implementing this knowledge next week when we design the landscape for a Habitat for Humanity house.
She highly recommended the title "The Southern Gardener's Book of Lists" by Lois Chaplin. It's not a picture book, so you might want a pictorial reference or the Internet handy; but it has lots of categories of plants for specific purposes, such as low hedges under windows or flowers for poor drainage, etc. Between this and several other gardening materials, I'm starting to grow my personal library.