Though it's certainly not guaranteed that we will be able to buy the farmhouse (since selling our current home in this real estate market will take a miracle), I couldn't pass up buying a little "gift" for our hoped-for home. The farmhouse originally had three fireplaces, but two were closed up. They would have disappeared entirely to be utterly forgotten if not for the solid hearths evident in the wood floors. Though inordinately expensive to restore chimneys, opening up the walls and installing vent-free gas logs is within the budget.
I had already concluded that I wanted one Arts and Crafts era mantel in quartersawn oak, and I was prepared to strip multiple layers of paint off of one given that stained mantels in good condition are over $1000. The second mantel I was picturing would be smaller and simpler, a paint grade specimen that would suit the bedroom.
To that end, I had to jump on the deal I found on eBay. An individual less than two hours away was selling two original mantels for a steal. And, you guessed it, one was a stained, quartersawn oak Arts and Crafts mantel and the other was a chippy white Victorian/Edwardian piece. A breathless, last minute bid and a whirlwind trip 100 miles north with my everloving husband resulted in these two beauties stored in the shop at the farmhouse!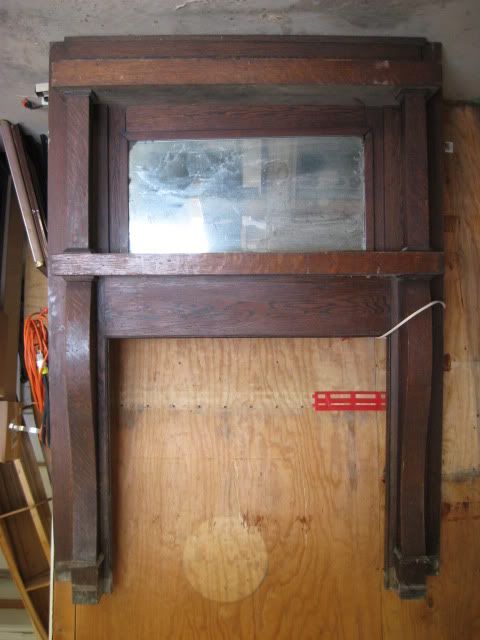 If we don't get to buy the farmhouse, I can clean these puppies up and resell for at least twice (maybe three) times what I paid. Even Jeff was swayed to take the risk by that return!