A big congratulations to my smart and successful husband! He was honored yesterday at the E Week banquet (it is National Engineers Week, for those of you not familiar with the hoopla, pomp and circumstance, and general festivities that accompany this geek week)!
I was able to attend the dinner and award presentation as his guest. While enjoying our Beef Wellington, I had the opportunity to meet several of his coworkers and students. After dinner, we heard Dr. Michael Griffin, former (and perhaps best) NASA administrator, give an address. Awards were then presented, with Jeff receiving the Outstanding Junior Faculty award for the College of Engineering! I'm so proud of him.
The Dean presenting Jeff's award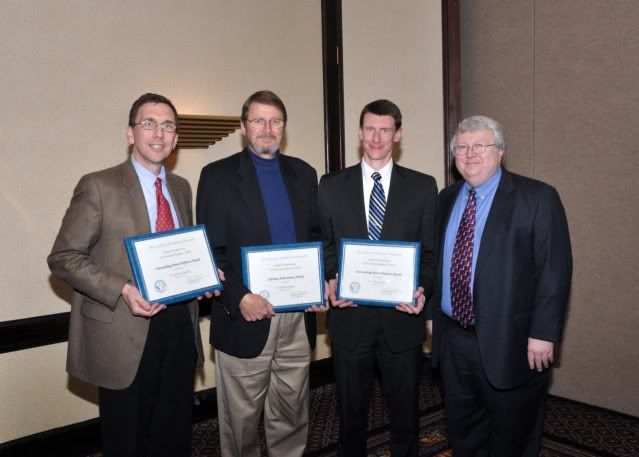 In good company: awardees for outstanding senior
faculty and lifetime achievement were also given

He left for work this morning with the plaque in a plastic grocery bag and the comment that he really needs to take a hammer and some nails to the office so he can hang all these awards. That is a nice problem to have, Darling!