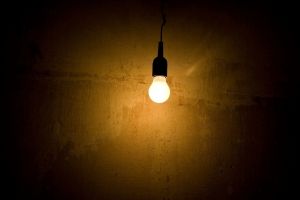 One bright light in this remodel has been our electrician. Dennis is absolutely wonderful; he's tidy, good tempered, patient, timely, non-smoking, and he has a good sense of aesthetics. He really thinks through the best function and appearance of every light switch, outlet, and lighting fixture. And he doesn't even fuss when I have him undo or change something!
We're having the entire upstairs rewired (or perhaps I should say
wired
, as there really isn't any "re" about it), as there was only one outlet and one wall switch for all three rooms and the hallway up there! Now, I have switches on every light, one or more outlets on every wall, GFCI plugs in the bathroom, sconce lights over the bed, service lights and plugs near all the mechanical systems, heavy duty junction boxes for ceilings fans on the deep front porch, hardwired interconnected smoke detectors, properly sized breakers, and a neatly labeled electrical panel. He also built the nifty little access door and service platform to the attic because I didn't trust the framers to cut into my almost-90-year-old wooden walls and get it right.