We've passed our rough-in inspection for the bathroom electrical, plumbing, and framing. Now it's on to insulation. This is a biggie for our old house. We can't possibly have enough of the stuff. Because some of our living space upstairs is under the slope of the roof, it's traditionally very difficult to get a good R value in only three or four inches of rafter space. So we're going non-traditional.
We've decided on open cell spray foam insulation for the entire upstairs. The idea is to totally "seal the envelope", encapsulating rooms, closets, attic space, and everything. It will coat all exterior walls and roof decking, forming a complete air barrier as well as a 95% efficient thermal barrier to convection, conduction, and radiation.
It's not brand new technology, but it's so expensive that many people aren't familiar with it. When I first got the quotes last spring, I laughed and thought that was that! But then summer came and we realized we don't really have many other options if we intend to use the second floor. So we're biting the bullet and having it installed this week. I'm actually really excited, because it's top of the line stuff and Jeff and I really try to implement quality buying practices. But when you're faced with several choices that seem pretty similar, it's much easier to just pick the cheapest, even when you know it means poor quality. But in this case, it's more of a necessity than a luxury, so here goes!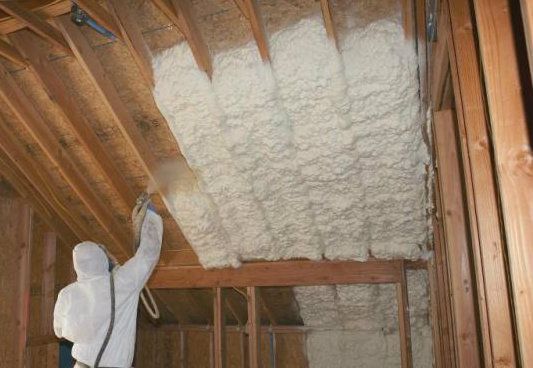 This stock photo shows a room very similar to our vaulted future master bedroom