I know I've blogged about this fantastic product before, but I just had to post these photos of my latest gel stain project. As much as I like the faux bamboo daybed I set up in our second guest room, we decided two twin beds would be a better use of the space. So, I found this great antique set of matching beds for a fantastic price. Of course, the price was so fantastic because the condition of the beds wasn't ideal. The previous owners were going to paint them, since that was really the only way to cover the significant damage. I may still paint them down the road after I repair the veneer (I can see a very chic satin black), but for now I've just done a coat of Java gel stain to hide the bulk of the damage so I can get them set up and in use for our upcoming houseful of guests.
I wish I had taken more photos before I started working on them. I was so eager to get going I just jumped in and started refinishing without taking proper "before" shots. The biggest difference is evident on the rails, but you can see the subtle improvement in the finished footboard on the left over the one on the right.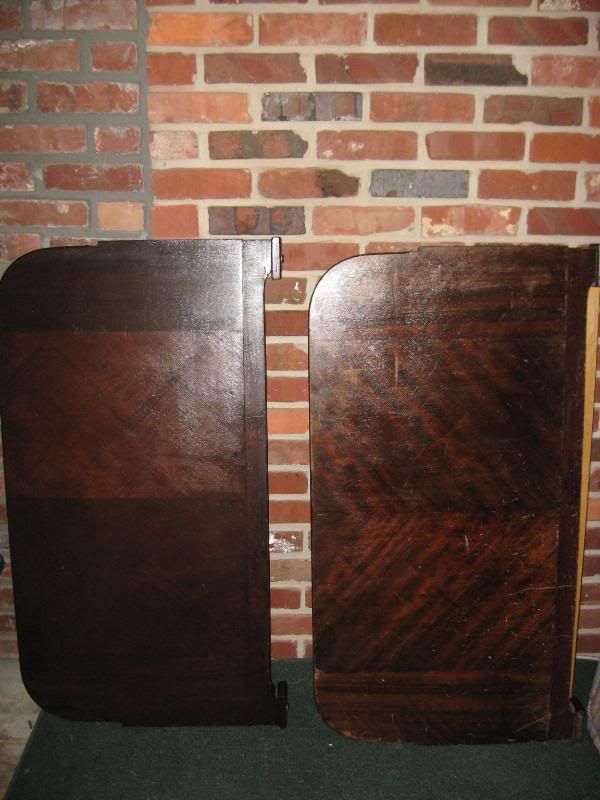 Bed rails before.........................and after gel stain
I'm almost done setting up the revamped guest room, so I'll post some pictures of the new layout when I'm complete (which had better be in a few days, as company arrives next week)!