I've had several requests for my marshmallow recipe, so I'm including it below. At the campout, I was brainstorming with another woman and we thought substituting peppermint or lemon for the vanilla extract might be delicious. We even discussed adding some cocoa powder to the sugar syrup to try to make chocolate marshmallows. I will add the disclaimer that I have not attempted any of these modifications, and candy making can be very finicky business, but it sounds yummy! Let me know if anyone tries this.
Homemade Marshmallows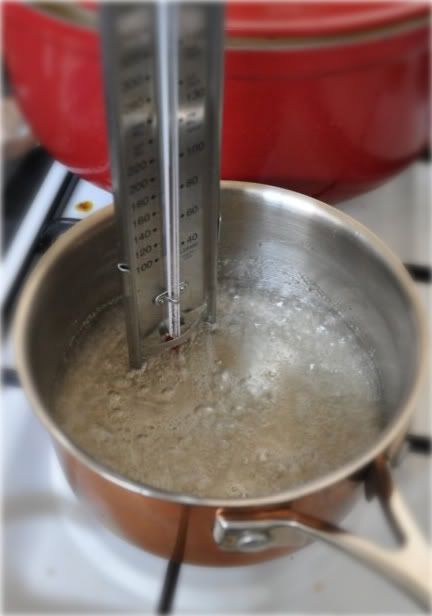 1 cup powdered sugar,
for dusting
2 cups white granulated sugar
1 Tbsp light corn syrup
1 1/4 cups water,
divided
1/4 cup unflavored beef gelatin
2 egg whites,
room temperature
1 tsp vanilla extract
Lightly spray a 9x9 inch baking dish with vegetable oil spray and generously dust with powdered sugar. Set aside.
In a medium saucepan (ideally with tall sides) over medium-high heat, stir together white sugar, corn syrup and 3/4 cup water. Heat to 250° - 265° degrees F (121° - 129° degrees C), or until a small amount of syrup dropped into cold water forms a rigid ball.
While syrup is heating, place remaining 1/2 cup of cool water in a small metal mixing bowl and sprinkle gelatin over the surface. Place bowl over double boiler or set in pan of very hot tap water. Stir occasionally until gelatin has dissolved completely. Keep warm until syrup has come to temperature.
Remove syrup from heat and whisk a small amount of the gelatin mixture into hot syrup. Syrup will bubble and froth significantly; stir gently until settled. Continue to add gelatin mixture until fully combined. Set aside to cool slightly.
In bowl of powerful standing mixer, whip egg whites to soft peaks. Slow beater to medium and pour syrup mixture into egg whites in a thin stream. Add vanilla. Once all ingredients are incorporated, beat on high speed until the egg whites are very stiff (10-12 minutes; watch your mixer to prevent overheating or motor damage!). Spread evenly in prepared pan, cover with cling wrap, and let rest 8 hours or overnight.
To cut, loosen edges of marshmallow sheet and turn out onto cutting board. Slice into squares or rectangles with a serrated or bread knife, cleaning blade in between with very hot water. Shake marshmallows in ziplock bag with additional powdered sugar to coat cut edges. Seal bag and store up to 1 month.