Since we had such a hectic summer, we didn't really get to celebrate our 10th wedding anniversary. Well, I thought we had celebrated it, but not in the style Jeff had secretly planned. He surprised me with a trip to western North Carolina to stay at a 1920's inn and a trip to the nearby historic Biltmore House!
We left Friday and enjoyed a very scenic trip through the mountains into South Carolina where we attended church services and stayed two nights. It was nice to catch up with old acquaintances and make new friends. We ate dinner at a Teppanyaki style Japanese steakhouse where they cook right at your table with big flames and the whole nine yards!
Our personal chef preparing the onions
Sunday morning we began our drive north and west to the Asheville area. We stopped at the famous North Carolina apple festival in Hendersonville which has been going on for over 60 years. We enjoyed fresh apples from local growers, tasty treats, street performers, and live entertainment from a nationally ranked dance troup.
A poodle-skirted tap ensemble
Since rain was in the forecast for Monday, we toured the Biltmore Estate gardens and barn area that afternoon and evening. What gorgeous grounds! Even as a lover of old houses and historical architecture, I have often wondered what the fuss over Biltmore was about. Now I know! It is absolutely breathtaking. The remaining 8,000 acres (of the original 18,000) are just amazing. And to think it was crafted from rather overworked open farm fields is even more astounding. Vanderbilt certainly knew how to hire the best men for the job!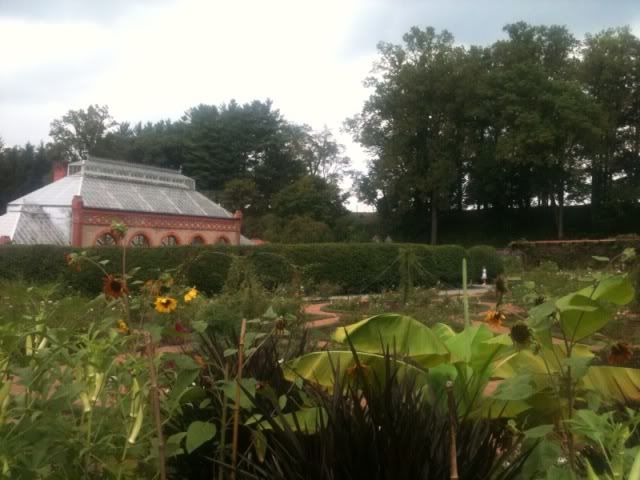 A view of the conservatory across the walled gardens
Monday was indeed raining, so it was perfect for spending the day in the enormous house. At 175,000 square feet, it took the better part of the morning to tour. Pictures are not allowed inside, but it rivaled the best castles and palaces we have seen in Europe.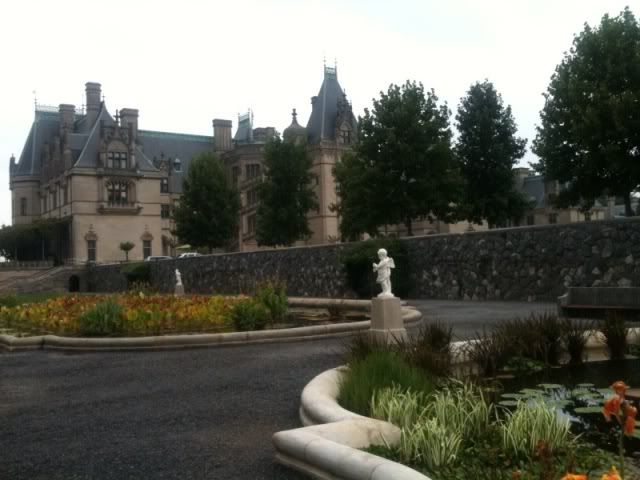 Just a corner of the Biltmore
One of the many fine views from the house
The afternoon involved a tasting and tour of the on-site winery, converted from the very success dairy barn operation. Biltmore Estates was (and continues to be) self-sustaining, which is rather impressive in this day and age. We also saw a temporary exhibit of Tiffany Studio stained glass lamps in the exhibit hall on the grounds, which we loved. The artistry and intricacy were breathtaking, particularly the pieces that took their inspiration from nature. Jeff was particularly fond of the sculpted bronze lamp bases showcasing the fragile shades (being the metallurgist that he is)!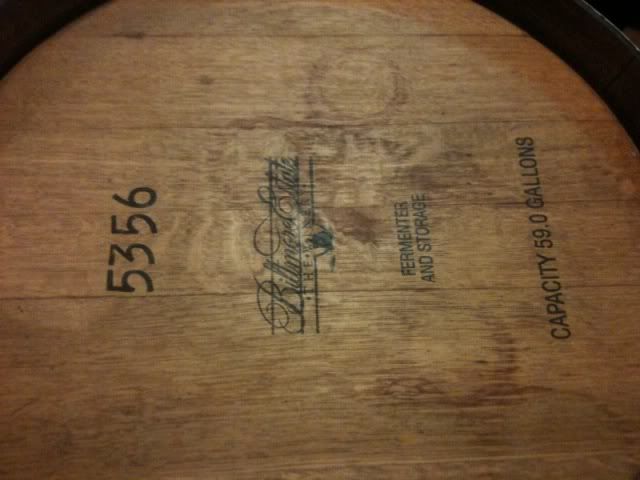 The Biltmore Logo on a wooden barrel
An elegant dinner at the French restaurant capped the long weekend. The rain (at a golf and spa resort) meant very few guests, so we practically had the place to ourselves. Attentive service and fine food marked the occasion.
Our accommodations and site of the restaurant
On the drive home today, we stopped by McKay's Used Books. It's a small chain of huge used bookstores. Jeff had visited the Knoxville location previously, but I had never been in. It was wonderful! I have never seen such a huge room of books (and videos, DVDs, CDs, records, etc). And it was quite busy! It was nice to see so many people still buying, browsing, and reading books. We purchased a small stack of music CDs and a few books to add to our library on landscaping and old house remodeling. What a fitting end to our Labor Day weekend!