The old aluminum blinds all over the house were getting on my nerves. I appreciated that we had some sort of covering for privacy (I've experienced the difficulty of moving into a new house and having to deal with lots of bare windows all at once). But these were dusty, dirty, and dated-looking. I knew something fresh would really update the rooms quickly.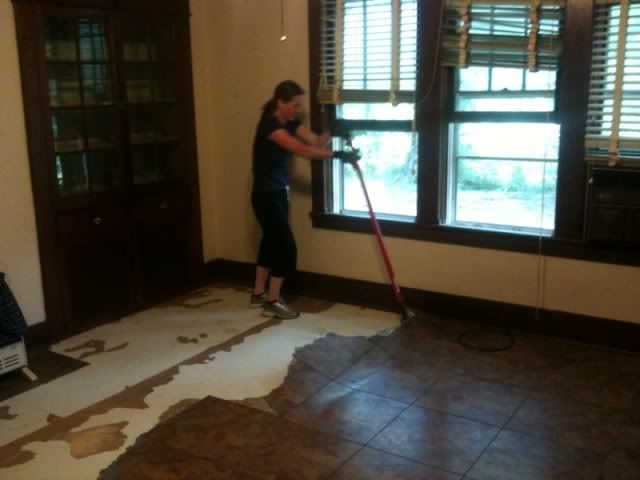 The dining room windows when we were pulling up flooring
One set of living room windows
before we moved in
A JCPenney clearance search resulted in just the right thing: bamboo shades in the perfect reddish wood tone to compliment the moldings. It took me part of the morning Friday to get them all hung, and then the new view motivated me that afternoon to remove the torn storm windows and clean the exterior glass. It's like a whole new world out there now! I'm working on curtain rods and drapery, so that will be the next step in the window treatment transformation.
Current view of dining room windows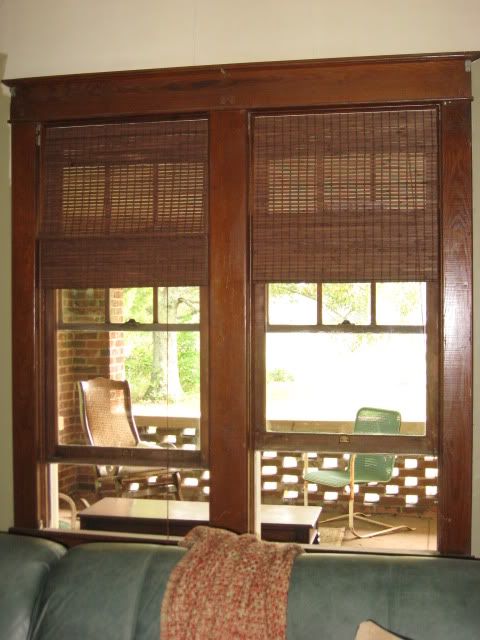 I had to smile at Miss Evelyn (the single woman who lived in this farmhouse her whole life). I think I've mentioned before how meticulous she was about saving and labeling items. Well, the blinds were no exception. Each piece of hardware was labeled as to the window to which it belonged, the direction it faced, etc. The header of this blind had the inscription:
Top line reads: S.E. Den window over air conditioner
Bottom line reads: Blinds restrung and new webbing #3 11-3-'82 Wed. - by Mr. "Frank Price Shutter + Blind Co."
(The #3 must refer to the fact that this is the third in a series of three windows, because the windows to the left are labeled #1 and #2). I wonder if this particular Wednesday in November of '82 was when she got the blinds back from Mr. Frank or if he did them all in one day?
And I used to think it was funny that Jeff dated post-it notes and index cards! This is a whole new level of detail!