Now that we've gotten past the bulk of the important structural stuff with the bathroom, it's on to the enjoyable decor decisions. I've been selecting items all along, even buying things months ago on sale, but now I can finally picture it coming together. Here is the moodboard for the vintage, nautical inspired bathroom.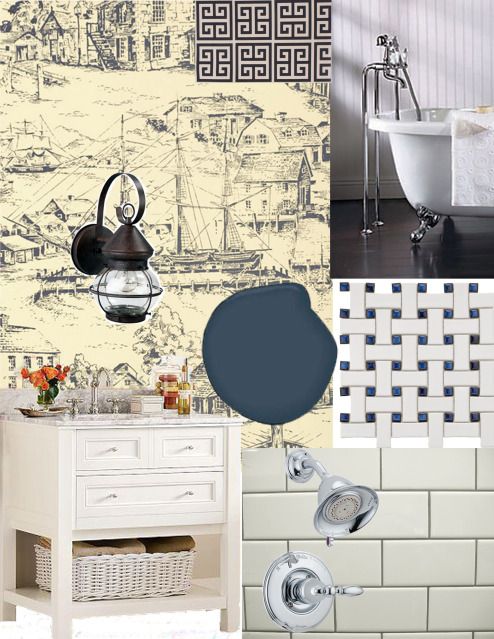 The Greek key style fabric in the upper center will be the curtains on the triple windows. The cobalt and white basketweave on the far right middle is the mosaic tile for the shower floor and the inside of the shampoo shelf niche. The creamy white subway tile at the bottom is the shower surround. The dark lanterns will be the sconces flanking the two matching vanities. The outside of the antique clawfoot tub will be painted the dark blue of the paint swatch, and Jeff fell in love with the floor mounted chrome faucet, so we splurged just a tiny bit for it. (I'm probably exaggerating here, as Jeff never *loves* an inanimate object, but he was surprisingly smitten with one on the showroom floor and said we should get a version!)
I'll be trimming the lower two-thirds of the bathroom wall in a Craftsman style wainscotting, like the picture above. The upper wall will be papered in the navy and cream toile wallpaper taking up the upper left quadrant of my moodboard.
The tiled shower will feature the small threshold and a fabric curtain, instead of the now-popular frameless glass doors. I do like that look, but it's a tad too modern for our bungalow, and you have to keep a very neat, tidy, and clean shower to get away with such a statement! But we will have the wood-look floors shown in the inspiration photo, which I love. I would prefer to use real pine, like the rest of the second floor, but that's not a good idea in a bathroom, so we're going with a very realistic vinyl plank.