...walls (not envy). Look at the pretty green board in the bathroom!
It's actually such a lovely shade of green, I may have to get out my paint deck and find a match for future reference!
I'm happy to report that we seem to have a fabulous tile guy. And he hasn't even started tiling yet! He did the moisture resistant drywall and shower surround cement backer board yesterday and today, and I can already sense that he is a real craftsman. He works alone (other than a helper just for the ceilings), and he is incredibly tidy. Every afternoon, he sweeps, vacuums, and stacks all his gear in one little corner of the room. He was perfectly amenable to a few changes this morning, all corrections required because of other trades' mistakes. He actually appreciated my very detailed graph-paper drawing of the shower niche design (instead of rolling his eyes or stating how he usually does it). And he even offered to polish the unfinished bottom surface of the marble shelf in the niche that is at eye level. I didn't even think of that! I'm excited to see what he can do with the subway tiles and accent pieces I've selected.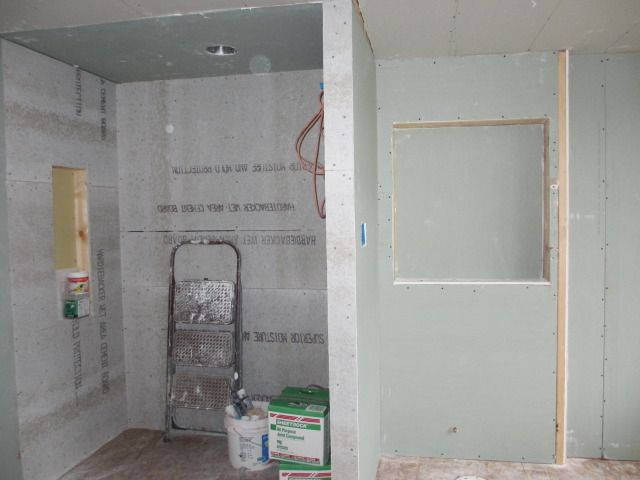 Here is the shower on the left and the toilet location to the right. The large square over the toilet is my solution to the accidental 15" rough in the framers left us with. I had them furr out the wall three inches and frame a built-in recess for shelves.You can never have enough storage in a bathroom!