After working on the landscaping, orchestrating potluck food and supplies, vacuuming and dusting the house, preparing lunch and planning dinner, Jeff suddenly asked me, "Aren't you on for church flowers again?". I am! I am very thankful he reminded me of this detail. But I hate to go to town or run errands on a Friday, especially a Friday afternoon, so here is the emergency arrangement we concocted out of last week's fresh filler, some houseplant cuttings, and a few silk stems I had on hand.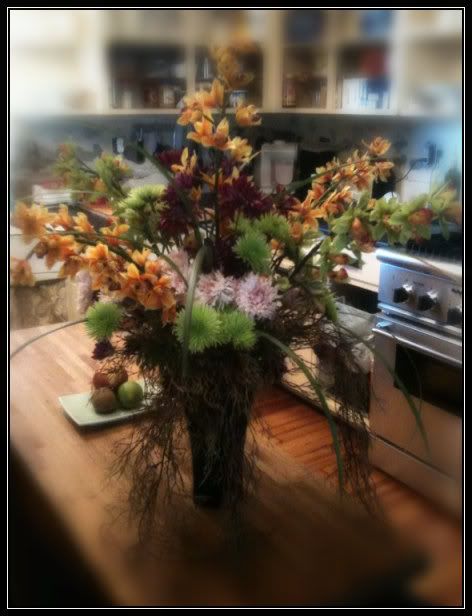 I say "we", as Jeff was instrumental in this quickie version. It was he with the bolt cutters that came to the rescue when I couldn't cut through the very thick faux flower stems. And it was he again who came up with a file box filled with heavy paint cans to wedge the top-heavy arrangement in for transportation across the many bumpy miles and rough railroad track crossings! (If you think I'm exaggerating about our rough roads and my previous bad experiences, read
this post
!)
On a related floral note, I hate to throw away flowers, even fading ones. So I floated the leftover roses from the old arrangement in a bowl with a few gardenia from the (still blooming!) bush for our Friday night table. I'm so glad a friend told me about the floating flower idea; I didn't know this, but apparently it's quite the Southern tradition with gardenias, since they don't make good cut flowers.