Wednesday was jam-packed full! We spent most of the day in the sun, working hard, for which I was rewarded with quite the sunburn on my back. Had I taken the few minutes to ask Jeff to rub in some sunscreen, I wouldn't have had to ask him repeatedly to rub in the aloe vera and place the vinegar compresses later that night! It was one of the worst burns I've had (second only to that teenage experience back in Texas in a swimsuit by the lake for about eight hours with no shade), but definitely the most painful. I had hours of burning, prickling, stabbing sensations that just shot across the skin of my upper back and made sleep impossible. Jeff was wonderful through the whole thing, though, and I survived, redder but wiser.
Since that pain didn't really hit until about seven or eight PM, we had plenty of time earlier in the day for good experiences! We cleaned out the little pump house; sorted, re-arranged, and stored all the storm windows; made plans for a "painting tent" in the shop where I can utilize the paint sprayer to my heart's content; removed the old propane wall heaters in the house; photographed and detailed items for Craigslist postings; made a little portable "playpen" for the baby chicks (who are more like adolescents now!); and mowed, trimmed, and pulled weeds around the property. Oh, and we enjoyed $1 cheeseburgers at our favorite wine bar/restaurant as a little dinner reward. What a day!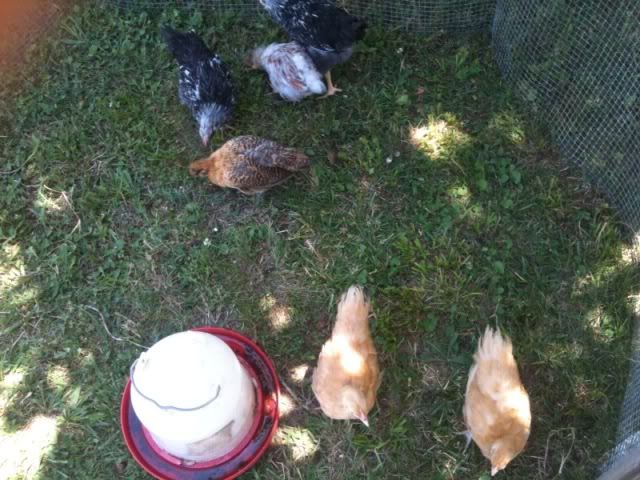 Happy chicks in the grass
Jeff got a kick out of Flash's dirt mustache; look carefully at his lower lip!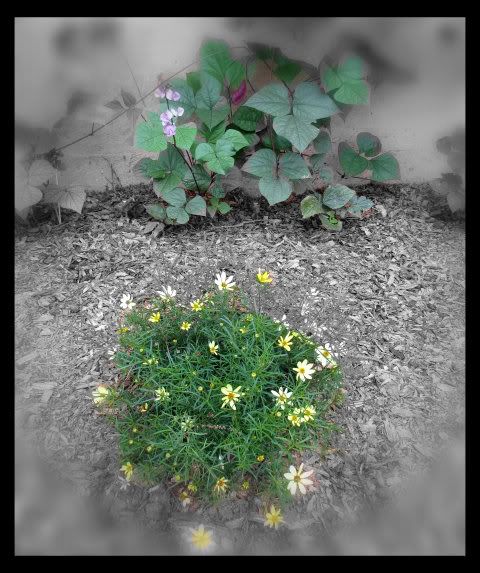 Flowering Threadlead Coreopsis in front of blossoming Hyacinth Runner Bean; pale yellow and lavender together make me happy!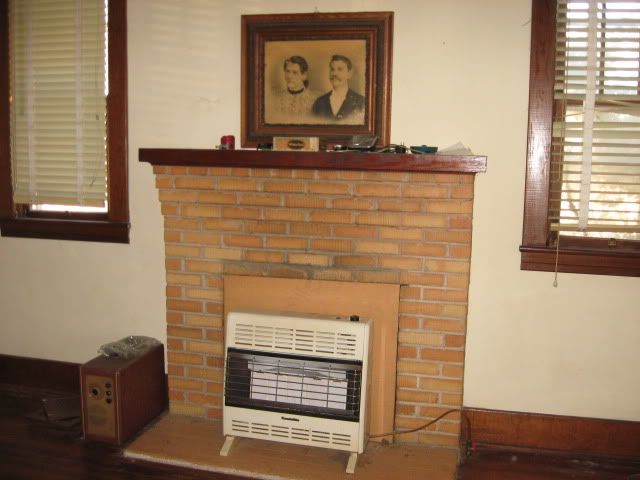 Mantel Makeover! Hearth when we bought the house
Hearth now


We hope to open up the firebox and install gas logs this fall or winter, but we're happy with one day's little improvement for now!